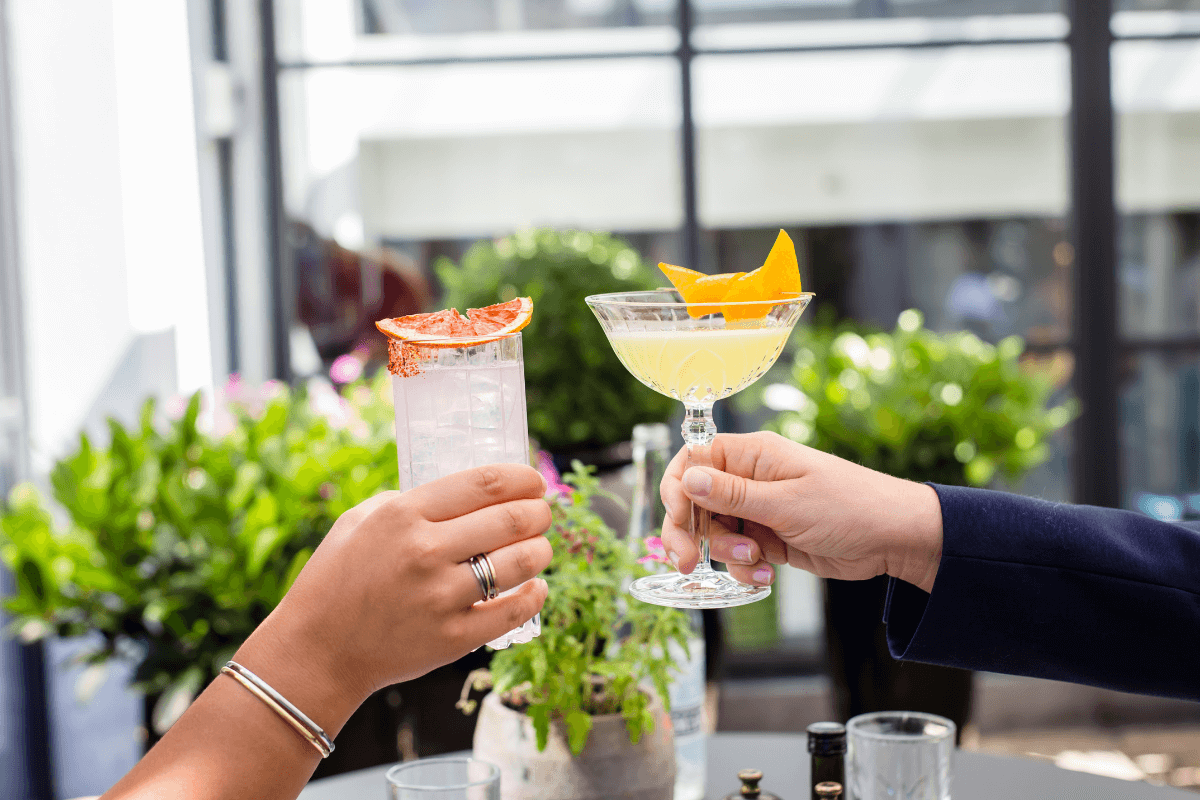 Bottlers up! Today we raise a glass to the ten most ordered famous cocktails in 2020.
Also this year, the magazine Drinks International has compiled the ranking of the most ordered drinks in the world. A list full of interesting ideas to taste new flavors and deepen the knowledge of the great classics of drinking.
Let's talk about the most loved modern cocktails, the ones we just can't give up and that help us to disconnect after a stressful day of work, or to celebrate Friday night with friends. After all, we know very well that the moment of the evening cocktail, whether relaxing and contemplative or cheerful and festive, is now indispensable and is increasingly trendy.
Thanks to the expansion of the ready-to-drink offer, in 2020 it is now possible to drink your favorite Daiquiri, Negroni, Margarita, or Whiskey cocktail in the comfort of your own home. Sitting in an armchair with a good book, or at the dining table, surrounded by friends. The quality of these handcrafted drinks is now so high as to make even the most successful cocktail bars envious.
Not to mention the fashion of cocktail-food pairing! This year, as never before, we wanted to combine our favorite dishes with good drinks, with intriguing pairings that are appealing to an increasingly wide audience of foodies.
The possibilities are endless...but let's get back to us. Let's see what are the recipes, pairings, and some curiosities about the ten most loved and drunk cocktails of 2020.
The 10 cocktails of 2020: recipes, ingredients, curiosities
Aperol Spritz
At number ten of our ranking, we have the Aperol Spritz, which loses one point compared to last year but remains among the top 10.
A classic aperitif of Italian origin, its invention dates back to Lombardy-Veneto, following the Austrian domination. The German term "spritz" (to sprinkle) refers to the touch of seltzer (once it was sparkling water) that the Austrians added to the local Italian wine. Needless to say, with the invention of Aperol in the 1920s, this orange drink became a true icon.
Ingredients
6 cl Prosecco
4 cl Aperol
Splash of Soda water
Preparation
Place all ingredients in a wine glass or tumbler filled with ice and stir gently. Note: There are other versions of the Spritz that use Campari, Cynar, or Select instead of Aperol.
Garnish
Garnish with an orange slice.
Mojito
This Cuban cocktail is always among the absolute favorites, not only in the summertime or on tropical beaches. The classic Mojito is enjoyed from aperitif to late night, even at dinner, accompanied by spicy dishes. A refreshing combination of white rum, fresh mint, raw cane sugar, lime, and soda. To prepare a Mojito cocktail worthy of Hemingway you need:
Ingredients
45 ml Cuban white rum
20 ml fresh lime juice
6 mint leaves
2 tablespoons of brown sugar
Soda
Preparation
Mix the mint leaves with sugar and lime juice. Add a splash of soda and fill the glass with ice. Pour in the rum and top with the soda. Lightly stir the drink to mix all the ingredients.
Garnish
Garnish with sprigs of mint and a fresh lime wedge.
Manhattan
Stylish and sophisticated, the Manhattan cocktail is a very classy drink, suitable for all occasions. Omnipresent in American movies and TV series, this cocktail has an uncertain origin, shrouded in legends and mystery. The only sure thing is that Manhattan saw the light towards the end of the nineteenth century in New York and still carries the glamorous aura of the city with every sip. To prepare it at its best, the IBA recipe reads:
Ingredients
50 ml of Rye Whisky
20 ml of sweet red vermouth
1 pinch of Angostura
Preparation
Pour all ingredients into mixing glass with ice cubes. Stir well. Strain into a cold cocktail glass.
Garnish
Garnish with a maraschino cherry.
Margarita
Although Tommy's Margarita and the classic Margarita cocktail split the votes in this year's rankings, this Mexican-spirited drink moves from eighth to seventh position.
The main ingredient of Margarita is Tequila, a distillate obtained by fermentation and distillation of the central part of the Mexican Agave (the best quality uses 100% Blue Agave). To prepare it at its best you need:
Ingredients
50 ml of 100% Agave Tequila
20 ml Triple Sec
15 ml of freshly squeezed lime juice
Preparation
Add all ingredients to a shaker with ice. Shake and strain into a chilled cocktail glass.
Garnish
Don't forget: dip the rim of the glass in salt to create the typical crusta.
Espresso Martini
Espresso Martini is a real velvety cuddle with the kick of vodka, to be sipped calmly instead of the usual coffee. This cocktail - by now a modern classic - was born in London at the end of the '80s, when Dick Bradsell was approached by a young woman who, with a rather explicit request, ordered a drink to "wake up".
Since then, the cocktail has been gaining more and more acclaim every year. Especially because it is so delicious that, if you love coffee by day, you can't help but love the Espresso Martini by night!
Ingredients
50 ml vodka
30 ml coffee liqueur
10 ml sugar syrup
1 strong espresso
Preparation
Pour all ingredients into a shaker and shake well with ice. Strain into a cold cocktail glass.
Garnish
None, but some people add coffee beans on top.
Whiskey Sour
Among the most classic bourbon whiskey-based after-dinner drinks, the Whiskey Sour has dropped one position from last year but remains firmly in the top five most popular drinks.
Sours are a family of cocktails with very precise rules. They have a base of distillate (in this case, whiskey), a dose of sugar (here substituted by sugar syrup), fresh lemon juice and albumin, to obtain a very soft and silky texture. Here's how to prepare a Whiskey Sour with flakes in just a few moves:
Ingredients
45 ml bourbon whiskey
25 ml fresh lemon juice
20 ml sugar syrup
20 ml egg white (optional)
Preparation
Pour all ingredients into a shaker filled with ice. Shake well. Strain into a glass. If served "on the rocks", strain all ingredients into a tumbler filled with ice. Note: If using egg white, shake more vigorously to release and incorporate the foam from the egg white.
Garnish
Garnish with half an orange slice and a maraschino cherry, adding orange zest if desired.
Dry Martini
The Dry Martini is a simple and elegant drink, highly appreciated by gin lovers. This year it almost reached the podium gaining two positions in the ranking.
Usually, Dry Martini is accompanied by green olives. We recommend in this case to choose the most fleshy varieties, with a good balance in terms of sweetness, flavor, and acidity (those of Santa Caterina of Nocellara del Belice are perfect).
Ingredients
60 ml of gin
10 ml of dry vermouth
Preparation
Pour the ingredients into the mixing glass together with the ice cubes. Stir well. Strain into a chilled Martini cocktail glass.
Garnish
Squeeze lemon zest aroma over the drink or garnish with olives.
Daiquiri
At the third position among the most loved cocktails this year we find a rum-based drink: Daiquiri.
Cocktail with Caribbean origins, Daiquiri has a fresh and delicate taste, very appreciated from aperitif on. It is very good to accompany hot summer nights, because of its thirst-quenching properties given by fresh lime juice.
Preparing a perfect Daiquiri seems simple, but one must pay some attention to the doses of ingredients and the glass, which must be ice cold.
Ingredients
60 ml white Cuban rum
20 ml fresh lime juice
2 bar spoons of superfine sugar
Preparation
Add all ingredients to a shaker. Stir well to dissolve the sugar, add ice and shake. Finally, strain into a chilled cocktail glass.
Garnish
None in particular.
Negroni
To win the silver medal this year we find the pride of the Italian aperitif. The Negroni cocktail!
For the sixth year in a row, this ruby cocktail takes second place in the ranking, being among the top three drinks served in 42% of the bars surveyed. Perhaps also because it is one of the easiest cocktails to prepare, as it combines a dose of bitter, one of sweet vermouth, and one of gin.
Ingredients
30 ml gin
30 ml of bitter
30 ml sweet red vermouth
Preparation
Pour all ingredients directly into a chilled, ice-filled tumbler, stirring gently.
Garnish
Garnish with half an orange slice.
Old Fashioned
In first place for the sixth year in a row is the king of cocktails, the Old Fashioned.
This timeless American icon is still on the crest of a wave when it comes to popularity. About 35% of the bars surveyed ranked this whiskey cocktail as their best-selling cocktail, confirming that the great classics are in a real heyday.
Sipping an Old Fashioned after dinner has always been cool, but drinking it with a meal is the trend of the moment. This drink lends itself well to pairings with red meat dishes, smoked or grilled fish, and rich dishes such as lasagna and roasts.
Ingredients
45 ml of bourbon or rye whiskey
1 sugar cube
A few drops of angostura
Few drops of natural water
Preparation
Place the sugar cube in a tumbler and saturate with the angostura, also adding a few drops of natural water. Pound the cube until the mixture dissolves. Then fill the glass with ice cubes and add the whiskey. Finally, stir gently.
Garnish
Garnish the tumbler with an orange slice or zest and a maraschino cherry.
References
https://iba-world.com/
https://drinksint.com/news/fullstory.php/aid/8648/The_World_92s_Best-Selling_Classic_Cocktails_2020.html?current_page=1
https://www.insider.com/worlds-best-selling-popular-classic-cocktails-of-2020-9