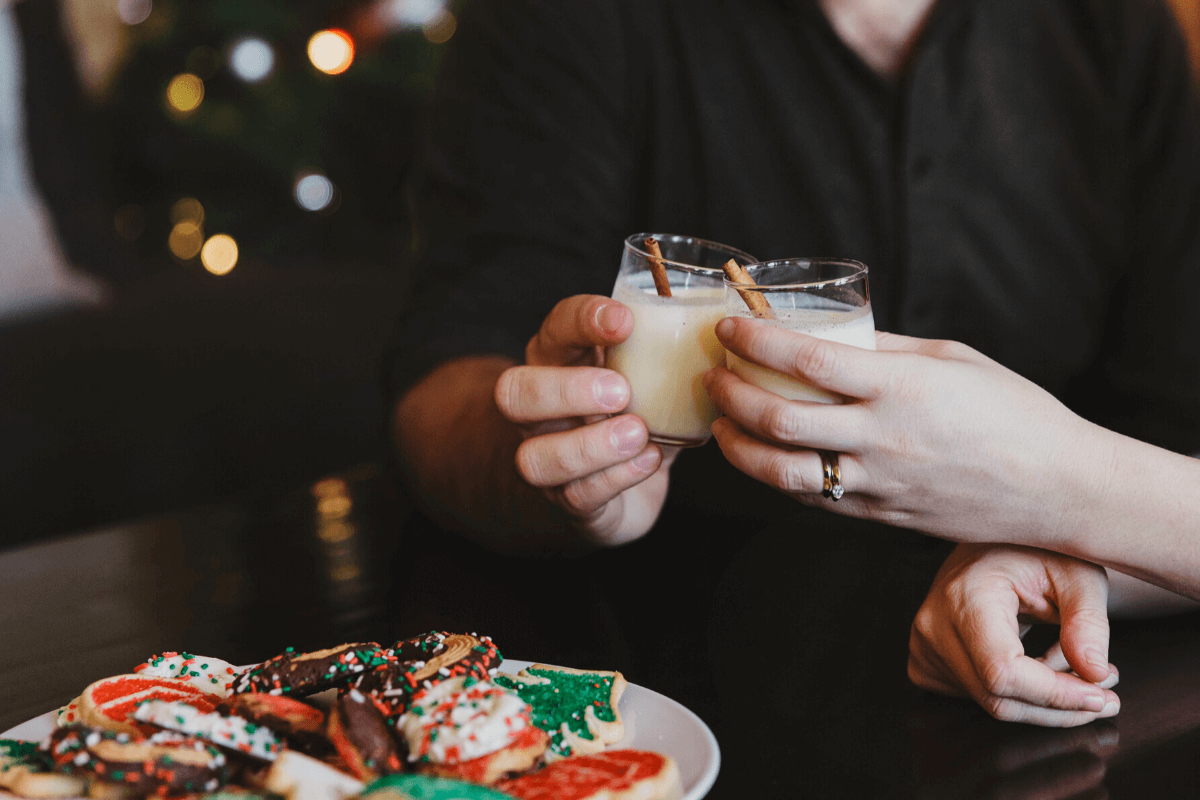 Winter is just around the corner and the cold weather is setting in. So what's better than warming up your evenings at home alone or with friends with warm and fragrant winter cocktails?
We have selected for you some of the most classic warm cocktails based on soft spirits and aromas of citrus fruits and spices, perfect to bring to the table as Christmas cocktails to toast and celebrate with loved ones.
Simple and delicious winter cocktails
Eggnog
Eggnog is one of those typical winter hot drinks that warm the heart and celebrate the Christmas season. Omnipresent in the winter drink list of American and English bars, Eggnog as we know it today dates back to the beginning of 1800s, with the particularity that it was prepared with a base of whiskey in the American hinterland whereas, in the great wealthy cities of the coast, they drank it with brandy, rum or fortified wines.
The drink arrived in America through the ships of the first English settlers, however, there are written witnesses that a similar beverage made of eggs, spices, milk and fortified with beer or wine was already famous in the Middle Age with the name of Posset, a "medicinal" blend drunk in the coldest months.
The recipe of Eggnog consists of mixing in a cup a spoonful of water and a spoonful of sugar until the latter is dissolved. Then add an egg and, with the help of a whisk, emulsify everything. The chosen spirit (90 ml of rum, brandy, or whiskey) is then heated and added to the cup with 90-120 ml of very hot milk, always stirring, completing with a sprinkling of nutmeg on the surface.
Hot Toddy
Hot Toddy - also known in Ireland as "hot whisky" - immediately warms up the atmosphere and it is very easy to prepare. Just add to boiling water (about 8.0 cl) two spoons of honey, cloves, and a cinnamon stick for infusion, then add whiskey (5.0 cl) and half a slice of lemon.
Unlike other holiday cocktails such as mulled wine, wassail or hot cider, a properly made Hot Toddy cocktail has a good balance of acidity and sweetness and is light and hydrating without being overly sweet. Perfect for drinking after dinner while watching a movie or playing a board game.
A delicious variation of the classic Hot Toddy is the new H.O.T. Cocktail, a whiskey sour to drink hotly available in an elegant winter box to give to someone you love, for a mouthwatering pleasure to enjoy all winter long.
Scented and enveloping as a cuddle, H.O.T. is an after-dinner cocktail made of soft whiskey, honey, cinnamon, ginger, star anise made even more delicate by the addition of apple juice.
The ideal drink to end in beauty walks in the mountains or days on the slopes. Try it after dinner, to make winter evenings with friends even more enjoyable.
Grog
It is said that the drink sipped by the sailors of Moby Dick (as well as by Hagrid, in the Harry Potter saga) was invented in the late '700 by Vice Admiral Edward "Old Grogram" Vernon of the English Navy, when he added water and lime juice to the sailors' daily ration of rum, to avoid cases of drunkenness and scurvy.
Today, the classic Hot Grog is a very loved cocktail in the coldest months because of its inebriating aroma and the full, smooth and enveloping taste given by rum. To prepare it, simply infuse
boiling water (7.5 cl)
honey (3 tablespoons)
fresh juice of half a lime
dark rum (3 cl)
For an even warmer and spicy taste, orange peels, star anise, and cinnamon can be added to the infusion.
Irish Coffee
Irish Coffee is a cozy and incredibly easy to prepare cocktail made of sweetened coffee, Irish whiskey, and whipped cream.
First, you need to heat the cup with boiling water for a few minutes, which will then need to be tossed to make room for the cocktail. Traditionally, Irish Coffee is served in a glass cup, and preheating prevents cracks that can form with sudden heat.
Then, you dissolve a teaspoon of brown sugar in the hot coffee (120 ml) and add the Irish whiskey (50 ml), stirring well. Finally, freshly whipped cream is added to form a smooth and frothy topping.
For this recipe, you need 50 ml of cream cold from the fridge, so that it does not melt immediately but forms a nice cloud floating on the drink.


Blue Blazer
Last but not least, a truly spectacular hot drink that is worth mentioning even if...it is better not to prepare it at home!
The Blue Blazer cocktail is one of the most iconic drinks of Jerry Thomas - the legendary "Professor", the godfather of bartenders all over the world - who has combined taste and spectacle in this drink.
As he said in an interview, the inspiration for the Blue Blazer came while he was trying his hand at playing the violin. The mixing technique - decidedly scenic - calls for the cocktail to be ignited and poured from one mug to another four or five times.
To prepare it are needed 12 cl of Scotch whisky and 12 cl of boiling water, which are then set on fire and mixed bypassing the drink from one mug to another, creating long, spectacular blue flames. To extinguish the flame, cover the cup and pour everything in a glass, adding a spoon of sugar and mixing well.
And you, which winter cocktails do you prefer? Write it down in the comments!
References
"Liquid intelligence", Dave Arnold
"Twist on classic - I grandi cocktail", Jerry Thomas Project
"Quasi quasi me la bevo", Eric Killkenny
https://barmanitalia.it/whisky-hot-toddy/
https://www.diffordsguide.com/cocktails/recipe/982/hot-grog